Application examples of successfully measured products:


● Chemistry, pharmacy:
Powders, granules, tablets, pasta, foils, fertilizer, phosphate, salt, potash, washing- powder, Styrofoam, synthetic material, PVC, acryl, pigments
● Building materials:
Sand/gravel quartz powder-sand, bricks (raw material), ceramic (raw material), plaster
● Food and semi luxury food:
Grain, strength, flour, malt, hop, soya, rape seed, corn, lenses rice, pasta, beans, sugar beets, beet mash, beet pulp, confectionery, cereals, snack meal, raw coffee, food means, fish meal, dried food, potato products, -flour, -chips, -flakes, sauce powders, powdered milks, spices, nuts
● Recycling:
Bio-, sludge, compost
● Other:
Wood shavings, wood flour, coal, coal dust, tobacco, foundry sand, glass/ceramic
Inline moisture meter mounted on the screw feeder for moisture measurement


The Inline moisture sensor mounted on the screw feeder works very good, because the measured material is continuously and consistent forwarded on the sensor by spiral blade, the sensor must be installed under the screw conveyor.

The advantage of Humy3000 installed in the screw conveyor
1. Compared to other installation position, the measurement is best, flow state is relatively stable,the measured data is more representative;
2. Moisture and temperature can be measured at the same time, so that man can control material drying or humidifying;
3. Measurement unaffected by rotation of metal blade, dust and vibration, reliability is extremely high;
4. Material density is needed to keep relatively stable,the best installation position is lower part 20-40 under screw conveyor;
5. Maintenance-free.

HUMY3000 installed in belt conveyor for moisture measurement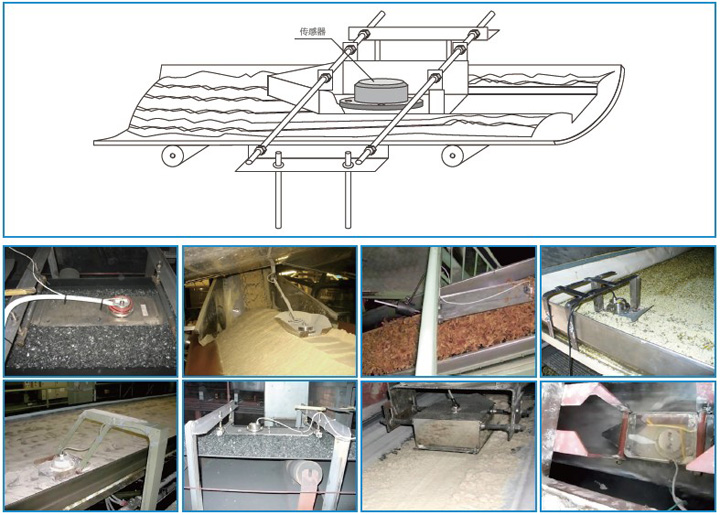 HUMY3000 is designed for continuous moisture measurement in der production line. Prerequisite for accurate measurement of bulk materials is to select the correct installation position. We shall ensure that the material fully contact sensor surface and material thickness as consistent as possible.



HUMY3000 installed in conveying pipe and silo for moisture measurement



HUMY3000 installed in chute for moisture measurement




Special applications of HUMY3000




The electronic unit of HUMY3000 in application